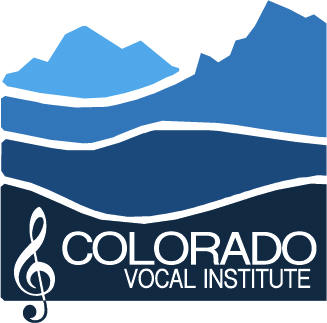 Contact Us:
info@coloradovocal.org or (303) 476-4330
Founded by Mark Biesterfeld and Leah Creek and in partnership with Dr. Robert Best and Julianne Lungren Best (Baylor University) the Colorado Vocal Institute is proud to host the institute in Beaver Creek, Colorado. Borne out of the desire to offer exceptionally high quality vocal education to high school students, CVI fills a growing need for an institute that supports the development of high school singers in Music Theater and Classical singing.
Leah Creek Biesterfeld, mezzo-soprano
Described as "vibrant and full-voiced" (The Denver Post) and praised for her "tangy, nut-brown mezzo" (Opera News), Leah Creek Biesterfeld appears frequently as a soloist along the Front Range.  Recent engagements include, Second Witch in Baroque Chamber Orchestra of Colorado's production of Purcell's Dido and Aeneas, an appearance as alto soloist in Bach's BWV 80 Ein Feste Burg with Pro Musica Colorado Chamber Orchestra, and as alto soloist in Handel's Messiah with Colorado Bach Ensemble.  Named a National Winner of the prestigious Metropolitan Opera National Council Auditions, Ms. Creek Biesterfeld has accumulated numerous performance credits in opera, performing leading roles with New York City Opera, Opera Company of Philadelphia, Opera Colorado, Santa Fe Opera, Wolf Trap Opera, Syracuse Opera, Des Moines Metro Opera, and Utah Festival Opera.  Solo concert appearances include Beethoven's Ninth Symphony with the Boulder Philharmonic, Mozart's Requiem with the Colorado Springs Philharmonic, the Boulder Chamber Orchestra, and Pro Musica Colorado Chamber Orchestra, Mozart's Mass in C Minor with Philadelphia Chamber Chorus, Bach's St. Matthew Passion, selections from Bach's Notebook of Anna Magdalena, and Monteverdi's Beatus vir and Dixit Dominus with Baroque Chamber Orchestra of Colorado, and Bach's BWV 106 Actus Tragicus with Seicento Baroque Ensemble.  Ms. Creek Biesterfeld made her Carnegie Hall debut with Mid-America Productions as a soloist in Haydn's Lord Nelson Mass and returned twice as the mezzo-soprano soloist in the Duruflé Requiem and the Mozart Requiem.  Ms Creek Biesterfeld earned a Master of Music in Voice from Indiana University and trained at some of the country's leading Young Artist Programs, including Santa Fe Opera and Wolf Trap Opera. A frequent performer across the Colorado Front Range, Leah performs regularly with Colorado Bach Ensemble, St. Martin's Chamber Choir, Ars Nova Singers, Anima Chamber Ensemble, and Baroque Chamber Orchestra of Colorado.
Mark Biesterfeld, Bass

Colorado native Mark Biesterfeld most recently performed as the Bass soloist in Beethoven's Ninth Symphony with the Boulder Philharmonic. He also appeared as the title role in The Mikado with CU Opera in Boulder.  Other credits include Second Soldier in Opera Company of Philadelphia's production of Salome, Hermann in Les Contes d'Hoffmann with Utah Festival Opera and the Commissioner in Madama Butterfly with Ashlawn-Highland Summer Festival, where he also covered the roles of Mustafa & Ali in Rossini's Italian Girl in Algiers.  As a member of Sarasota Opera's Studio Program, he covered the roles of Nourabad in Le Pecheurs de Perles and Alvaro & Ataliba in Verdi's Alzira.  Other credits include the Customs Officer in La Boheme with Cincinnati Opera and Bartolo & Antonio in Le Nozze di Figaro with Opera Colorado's Studio Program.   Mr. Biesterfeld's concert credits include Haydn's Lord Nelson Mass with Philadelphia Chamber Chorus and Brahms' Ein Deutsches Requiem with the Wayne Oratorio Society.  Mr. Biesterfeld received a Bachelor of Music from Indiana University and a Master of Music from the University of Cincinnati and was a recipient of an Allied Arts Inc. grant and a Corbett Award in Opera.
Mark and Leah are the Executive Directors of the Colorado Institute of Music and the directors of Petite Musician which offers Music Together, music and movement classes for children, birth through 5 years old and their parents or caregivers.  Mr. Biesterfeld and his wife Leah have two beautiful daughters Annalise and Sophie.